SAFE IN NATURE
Dive-Away & COVID Protocols at Nature Island Dive
We at Nature Island Dive are concerned for your safety and ours.
Keeping in line with our philosophy, we have established procedures for keeping us all as safe and healthy as possible.  
What is the "Safe in Nature" Program?
Dominica's Safe in Nature Program was established to help visitors enjoy activities in Dominica while remaining in a "Tourist Bubble" to keep both visitors and Dominica citizens as safe as possible.
Under this program, you can stay in a COVID-Certified accommodation and visit Nature Island Dive (a COVID-Certified Watersports Operator) to go scuba diving during your mandatory days of quarantine.
Transportation to and from our Dive Center is on COVID-Certified Taxis only. During this time, guests are not permitted to visit any local establishments. Your experience is managed to maintain the safest possible environment for all.
Our beautiful garden area allows guests to sit outdoors in an open-air environment. We have three distinct sittings areas for guests to  enjoy the fresh air and sunshine!
How Can I Participate in "Safe in Nature"?
Anyone can take advantage of the "Safe in Nature" Program!
Simply request it when you contact your COVID-Certified Accommodation to make your booking. Tell them you want to go diving with "Safe in Nature" at Nature Island Dive!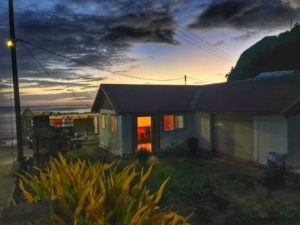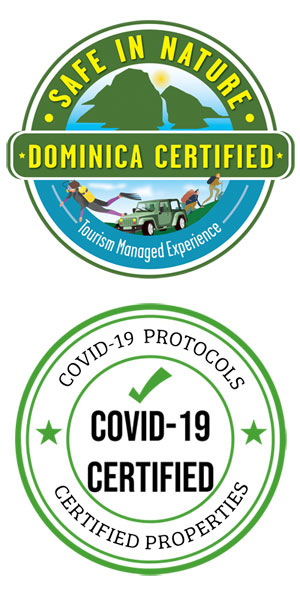 What our guests are saying about the "Safe in Nature" Managed Experience
See what Theresa has to say about her Safe in Nature Experience in November 2020
Great time! Great dives with Von and Capt Rockhind. Fabulous staff – Bernisa and Simon (Boss). Merry Christmas! Keep safe.
Thank you! I was nervous but I feel great now!
As a tourist in Dominica during these strange times, I was thrilled when I heard that Nature Island Dive was operating and able to provide "safe in nature"/COVID approved tours. I was impressed not only by their stringent sanitation standards, but their willingness to ensure that the whole process was as safe as can be. Simon, the owner, is an awesome guy. Great to talk to, extremely experienced, and brilliant. My diving instructor, Desi, was able to make my first dive as exciting, easy, and enjoyable as I could have ever imagined. She truly went above and beyond in every way, and her 27+ years of practice pay dividends with her instruction techniques. You can tell that everyone at Nature Island Dive has a true passion for everything related to being underwater, and they love sharing that passion with their clients. I couldn't recommend them more highly.
Than you for the fantastic, fun, safe and beautiful adventure below the sea in stunning Dominica!
At 52 minutes, best dive of my life –*–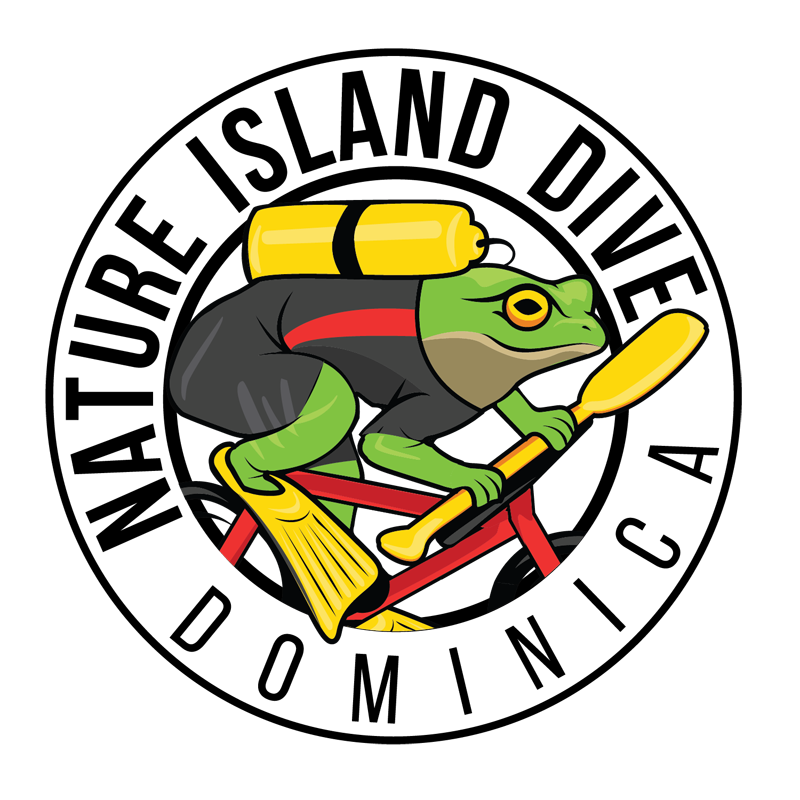 Meet & Greet Protocols
When we welcome you to Nature Island Dive, you will be asked to sanitise your hands before entering the dive shop.
We will provide clean (disinfected) pens for filling out your paperwork and then explain our specific procedures to you.
Scuba Gear Sanitization Procedures
Disinfection Procedures
All Equipment used by divers, snorkelers or boat passengers is disinfected after use and then hung up to thoroughly dry. In particular, the following equipment is ALWAYS disinfected before re-use.
Regulator mouthpiece (primary and secondary)
Snorkel
BCD oral inflator
Mask
---
Disinfection Solution
Our equipment is disinfected with solution based on the following recommendations by Divers Alert Network DAN) and the Center for Disease Control (CDC).
When using bleach, we use gloves, mask, and eye protection to mix the solution Our solution is mixed in a well-ventilated area using cold water, as hot water can decompose the active ingredient.
The CDC recommends a solution of 1/3 cup bleach per gallon of water (22mL bleach per L water) with a soaking time of 1 minute for hard, nonporous surfaces. This relatively weak 2% bleach solution and short contact time should not cause damage to scuba regulators
Public Spaces
Our Dive Shop Staff maintain good hygiene by washing hands frequently and regularly and by disinfecting high-touch areas (including fill stations).
More Information
For further details about the Safe in Nature Program, download the Official PDF below.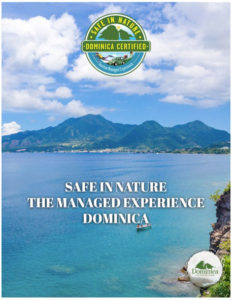 Official Brochure Dominica's Safe in Nature Managed Experience (PDF)